---
Your Best 2023! Vision Board + Intention Setting (In-Person and Via Zoom)
February 5 @ 2:00 pm

-

5:30 pm

EST
Cost: 
$40 per person by Jan 20th, 2023
$50 per person after Jan 20th, 2023
*Please note that pre-registration required and no day of drop-ins are available.
Back for our 11th year!!! This workshop will sell out – please sign up in advance.
This workshop will be offered in-person and via Zoom. Register HERE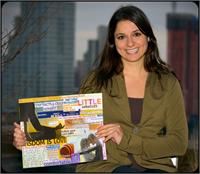 "Your vision will become clear only when you can look into your own heart….Who looks outside, dreams; who looks inside, awakes."-Carl Jung
As we embark on a new year, take the pause needed to listen and respond from your heart center, from the inside out. Get clear and focused on what you really want in order to live your best 2023 with meditation, journaling, intention setting, sharing, and coaching. Be led through the best practices for making your very own vision board reminder in a fun, supportive, and social atmosphere!
Schedule:
1:45pm: Arrive in-person or zoom and settle in 
2:00-3:30pm: Guided meditation and visualization, setting intentions, journaling, partner exercise, and coaching.
3:30-5:00pm: Creating your vision board, mindful sharing, writing a letter to your future self that will be mailed to you.
5:00-5:30pm: Closing Ceremony
In-Person: 
All materials will be provided: Your choice of poster board in various shapes and sizes, scissors, glue, markers, pens, pencils, magazines, and a 2023 Intention Pack for journaling, self-inquiry, intention setting, and encouragement.
You may want to bring additional magazines, images, or quotes with you. Blankets and bolsters will be available for seating.
Please arrive 10-15 minutes early to check-in, find your spot, and settle in before we begin.
Please dress comfortably. Much of the day will be spent sitting on blankets and bolsters. Blankets and bolsters will be available for sitting and working on the floor. If this set up does not work for you, please let us know in advance by emailing hello@extendYoga.com so that we can best accommodate your needs.
Zoom: 
We will email you your "Action Pack" and a supply list in advance. You can begin to collect magazines, images, quotes, etc. now
Your Best 2023! Vision Board + Intention Setting (In-Person and Via Zoom)